New Release: Sapiens "Fuzzy Driver" EP inc. DJ Samer & DJ B Remix
Featured on Beatport, and Beatport's #1 Must Hear Progressive Tune For This Week's Releases!
Widespread Support from John "00" Flemming, Above & Beyond, Hernan Cattaneo, Darin Epsilon, Van Bellen and many more…
To Purchase or Hear Samples on Beatport, please click here.
Release Date 2013-10-7
Labels Stellar Fountain
Catalog # SFR083
Sapiens is a stage name of Alon Shapiro, an already known electronic music producer and a DJ in progressive, tech and deep house genres. Sapiens has been spinning in clubs, dance bars and outdoor events all over Israel since 2004 and has become publicly known for his unique musical taste, intelligent and deeply pumping sets, harmonic mixing techniques, combining various genres into one long dancing composition. On the producer side Sapiens follows what he likes and prefers as a DJ, so there's no chance to get confused! His fresh material 'Fuzzy Driver' is an absolute catchy production, with a pulsating groove an incredible fine melody structure, which ask for repeated listen. On the remix side we can welcome Monojoke, Stanisha and Dj Samer & DJ*B.
The original mix has a solid sound selection, with dope drum and bass combo, and floating synth and string arrangement. Monojoke's epic festival pusher edition put a lot of creative energy to the main theme's complex structure, while using the recognizable parts carefully. Stanisha was not afraid to take the original into a more experimental, an darker level, packed with unawaited effects and technical solutions. Dj Samer & DJ*B created an analog but warmth sounding version, armored with lovely vintage synths which leads into a lazy, feel-good atmosphere.
New Release: Max Iborquiza "Rhythm Server" (Dj Samer & DJ*B Remix) Rezongar Music
Widespread Support from Hernan Cattaneo and many more…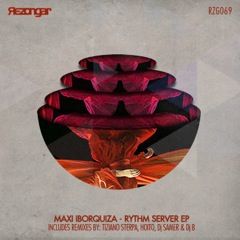 Release Date 2013-04-27
Labels Rezongar Music
Catalog # RZG069
To Purchase or Hear Samples on Beatport, please click here.
Beatport Chart: Fall Selections 2013
Some great tunes to ring in the fall season!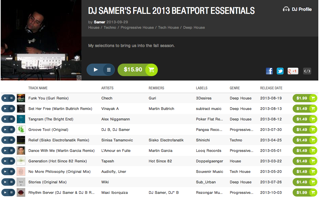 Click Here To View The Chart.
Upcoming Releases
**Out Now** DJ Samer & DJ B "Groove Tool" EP (Original Mix) on Pangea Recordings
**Coming Soon** DJ Samer & DJ B "Groove Tool" EP (The Remixes) on Pangea Recordings inc. Hardy Heller, Sean McClellan, Big Al, Python, and Ri9or Vocal Remixes!
For Previews, Mixes and more, visit my Soundcloud.
ALSO visit:
Visit My Beatport Dj Profile
Follow Me On Mixcloud
Follow Me On Facebook
DJ Samer Official Twitter Page
Resident Advisor Profile
THANX TO ALL FOR THE SUPPORT!!!!!
TO SUBSCRIBE to our newsletter, please email
pangea@pangearecordings.com
with the word "subscribe" in the subject.